About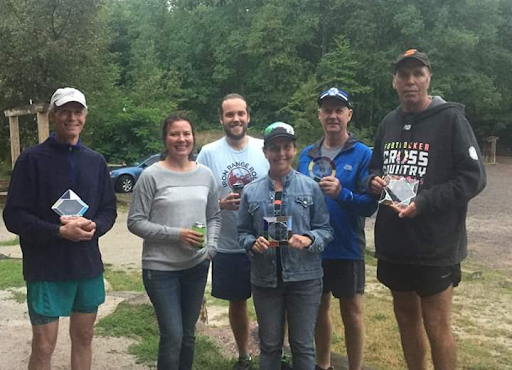 Guidelines
Series Registration: All events are free of charge and 'club style' (not an official race, more of a fun gathering for runners looking for friendly competition.) Recommended donation of $20 for club membership or $5 per race for nonmembers.
Race Distance: There is a short course that varies around 5-10 km. A long course is the short course twice. The kids course is around 2 miles. Maps, distances, and course profiles are available prior to race. All are GPS measured.
Entry Fees: Free! Donations are recommended and help fund the operation.
Start Time: 6pm for all races
Classes & Age Groups: No age classes. The only categories are men/ women long/ short, and a kids course. Participate in whatever race you want!
Aid Stations: This is club style, so there aren't any aid stations on the course. At the start/ finish there is a table with limited water and a grill. Almost every race there will be burgers, hot dogs, and brats. Bring any food you would like to share with fellow runners!

Scoring and Results
Timing/ Results: This is a point series, so time is not recorded. There will be a watch at the finish if you would like to see your time. There are two prediction run; time will be tracked for finish placing and watches will not be allowed. Results will be posted on Facebook and a results sheet will be at each event.
Series Scoring: To receive an overall score in the series, you must compete in 5 of the 8 races scheduled. The top 6 races count in the overall scores. There will be bonus points awarded to those who go to all 8 races.

Points Scale
Place
Points
1st
25 pts.
2nd
23 pts.
3rd
21 pts.
4th
19 pts.
5th
18 pts.
Continues by 1pt down to zero
Virtual Race Series
The virtual race series will be tracked through Strava. There will be a set course that is open for 2-3 weeks. You can run the course as many times as you wish. This too will be a points series with about 5 courses throughout the summer. Follow Facebook and Strava (FKT MQT) for course details. If you run the course and Strava does not pick up the race segment, but the actual segment/ course was completed, then send Andrew the details and credit will be given.